Are LedgeLocker Shelves Childproof?
---
We recommend not showing a young person how to unlock our products.
---
How Can I Purchase a LedgeLocker?
---
You can visit our online store, or you can contact the dealer that is closest to you. If there is not a dealer nearby, contact us for current pricing and specials.
---
Who Are Your Current Dealers?
---
Seaworth Safe Sales™
2305 N Taft Hill Road
Fort Collins, CO 80524
(970) 482-8469 Heritage Colletables™
1675 Lakeside Drive, #102
Reno, NV 89509
(775) 825-4817 A Higher Security Locksmith™
660 Beaumont Avenue
Beaumont, CA 92223
(951) 845-6364 Steamboat Ranchwear™
Steamboat Springs, CO 80487
(970) 879-5214 Beretta Gallery™
41 Highland Park Village
Dallas, TX 75205
(214) 559-9800 Stuard Wells, LLC™
1325 Nace Road
Pennsburg, PA 18073
(484) 948-8309
South Texas Tripods and Feeders Inc.™
22445 Spring Stuebner Road
Spring, TX 77389-4211
(800) 593-4422 Clint Orms Engravers & Silversmiths™
229 Old Ingram Loop
Ingram, TX 78025
(830) 367-7949
---
Can You Match My Wood Color?
---
Yes, you need to provide a color sample or specification. There is a 20% minimum charge for most stain or paint colors, and we will offer a quote for more complex finishes.
---
Is Your Product Fire Rated?
---
No, our products are built out of wood, so the contents could be at risk in a fire. A fire-rated safe is the best place for high value items.
---
Can You Build Custom Sizes?
---
Yes, all you have to do is submit your custom size for a quote. Please note LedgeLockers cannot exceed 60 inches in length.
---
Can It Be Installed Above A Fireplace?
---
It is not recommended. Due to the precision of our product, excessive heat may warp or crack the wood and could lead to malfunction. Additionally, exposure to this type of heat may damage your sensitive contents.
---
How Much Weight Can The LedgeLocker Hold?
---
These items are quality-built, using reinforced steel corners and mortised joinery. • 9" X 24"—10 lbs Inside & 10 lbs on Top • 12" X 24"—14 lbs Inside & 14 lbs on Top • 12" X 52"—28 lbs Inside & 28 lbs on Top
---
How Difficult Is The LedgeLocker To Install?
---
These items are very simple to install. Depending on the shelf size, installation should take 10 to 20 minutes. Our products come with easy-to-follow instructions and a phone number to call for technical support.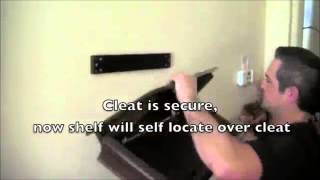 ---
What Happens If I Lose My Key?
---
Each LedgeLocker comes with a back-up key, and replacements can be purchased.
---
What Is The Average Lead Time?
---
From the day the order is placed until the ship date is approximately 4 weeks.
---
What Types of Payments Do You Accept?
---
We accept MasterCard™, Visa™, American Express™, and Discover™.
---
Does This Product Have A Patent?
---
Yes.
---
---